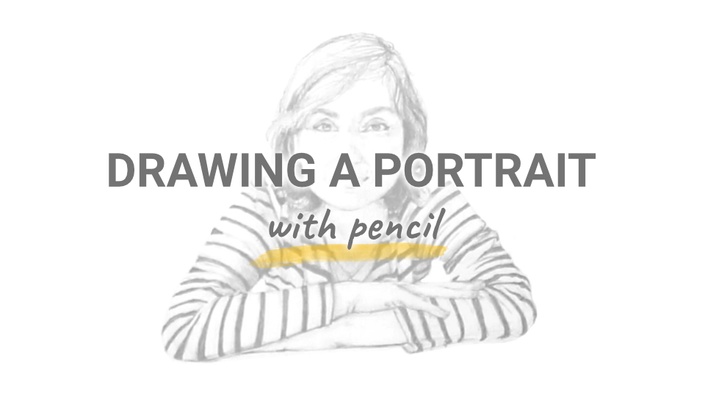 Drawing a portrait with pencil
A simple guide to creating an elegant portrait or self-portrait, ready to frame or gift in only 7 days
Watch Promo
Rekindle your creative side by learning to draw lifelike portraits, even if you don't have a lot of time or haven't drawn in a long while.
I have been there.
I am a late bloomer, a self-taught artist. The first time I drew my self-portrait, inspired by a drawing by the 19th-century French artist Ingres, it felt as though it had taken hours and I did not like the result very much. That was disappointing! But I persevered and I created a formula for myself that worked. I needed a clear step-by-step process, first to know where to begin, and secondly to give myself the confidence that, no matter how ugly my work in progress seemed to me (it almost always does at one point), if I stubbornly followed my process I could push through and love the end result.
This course is my personal formula – all you need is an everyday pencil and a sheet of paper.
You will learn how I choose a reference picture, decompose it into basic geometric shapes, draw the face, add layers of details and make the composition pop. All you need is an everyday pencil, an eraser, a sharpener and a sheet of paper. The course is divided into seven sections, which means that, in just a week, with a few minutes of video and about 30 minutes of 'homework' (depending on how fast you are) each day, you can achieve a wonderful portrait drawing that expresses your creativity and that you will be proud to frame or gift to someone you love.
In 7 days, you'll nurture the artist in you.
So take the first step to your new art routine today! In your own time, and at your own pace, you can have a new art routine that can also be very relaxing. The 'homework' given in each video should take around 30 minutes, often allows for multitasking and is just about as long as a very good podcast (just sayin'). You'll see, if you're anything like me, that after you have drawn your first portrait successfully you won't be able to stop drawing new portraits – and you will love every minute of the process.
Your Instructor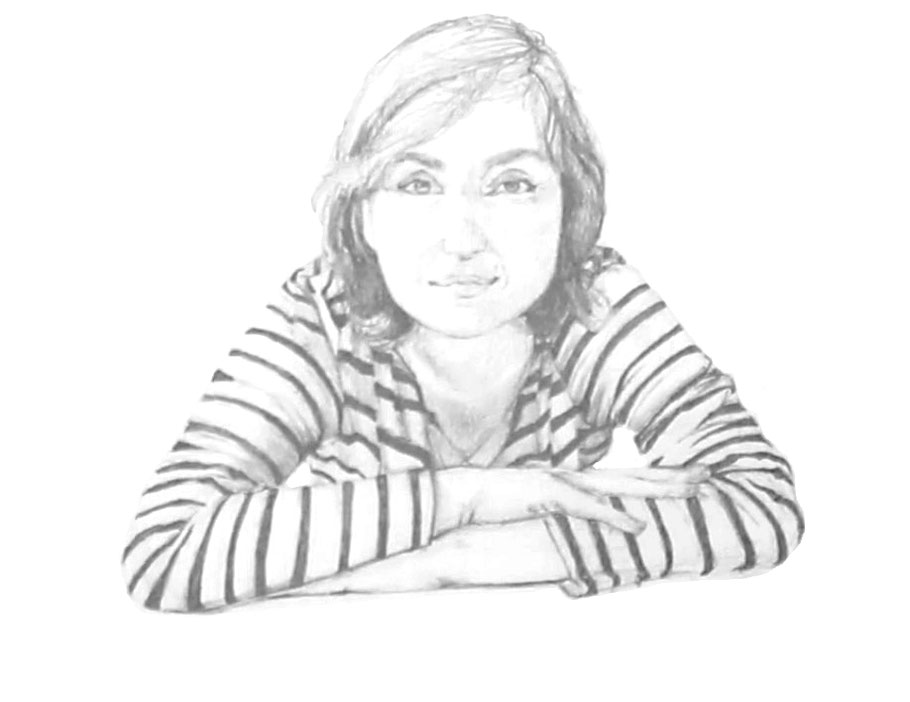 Hi! I am the artist behind The Daily Atelier. Although I loved drawing when I was a teenager, I spent years of adulthood without touching a sketchbook – I thought I did not have the time but, at the same time, I felt that I was not nurturing a creative part of myself that used to be there, back in the day. Now I am a late-bloomer artist, teaching myself by studying works of art I love, and training, training, training. By documenting my journey with videos of my projects and findings, I hope to help you find your own art routine, at your own pace, one week at a time.
I do not pretend to be a teacher, a seasoned artist or an expert in anything. I am just a very motivated learner, like you, who finds a deep joy in regular art practice.
I am French and, while I lived in London for some years, you may notice my French accent! Don't worry – if you have any difficulty with it, there are subtitles and transcripts of everything I say. A bientôt!
Course Curriculum
1. Welcome to my studio: how to prepare for this course and choose your reference picture
Available in days
days after you enroll
2. How I draw a mini-sketch as a guide for the whole project
Available in days
days after you enroll
3. This section is crucial: let's draw the first sketch of our portrait
Available in days
days after you enroll
Frequently Asked Questions
When does the course start and finish?
The course starts now and never ends! It is a completely self-paced online course - you decide when you start and when you finish.
How long do I have access to the course?
After enrolling, you have unlimited access to this course for as long as it remains in the catalogue, across any and all devices you own.
What if I am unhappy with the course?
I would never want you to be unhappy! If you are unsatisfied with your purchase, contact me in the first 30 days and we will give you a full refund.
But I can't draw! I have never learned / I stopped too long ago / I'm too old to learn …
I don't have any academic training either. Even though I used to draw a lot when I was a teenager, I almost completely stopped for most of my adulthood – until I turned 40. I think – and hope – it is never too late to practise, as long as you enjoy it and don't put too much pressure on yourself.
What if I don't have the time?
I understand – this is why I almost completely stopped drawing. A traditional course with regular classes is very hard to sneak into your calendar when you have other priorities in your life. I totally get it. That is why I created videos that last a few minutes max, which you can watch on any device, anywhere and in your own time. It helps you to create your own art routine, without stress, cosily snuggled up at home with an iPad and a cup of tea. You don't have to choose between giving up your creative side and being completely overwhelmed by your schedule.
You are not classically trained, so why should I trust you as an instructor?
Don't! I am self-taught and I do not pretend to be a teacher, a seasoned artist or an expert in anything – I am just a very motivated learner who finds a deep joy in regular art practice. With this course, there is no pressure and you will receive no diploma. I don't regard this material as a course so much as a step-by-step explanation of how I work at the moment, which may inspire and motivate you.
You are French – why are your website and course in English?
When I created The Daily Atelier, I was living in London: English was the language of my friends and clients. I now live in Brittany, France, where everyone wears breton shirts like mine.
I don't like cats – or stripes. And I hate grey.
Hmmm. Maybe this course is not for you then ;-)
If you do like cats, stripes and the colour grey, if you really want to be able to draw a portrait even if you don't have a lot of time or haven't drawn in a long while, if you want to express your creative side and be proud to frame or gift a portrait drawing …